Meet our Horses
GaitWay's program relies on a diverse group of therapy horses, consisting of many different breeds, sizes and dispositions. We strive to provide the perfect match between horse and rider. This partnership, plus trained volunteers, generates a dynamic team.

Please consider adopting a horse with annual support.
Bama is a Donkey-Thoroughbred cross, a breed rarely seen in the therapy setting. Bama has competed in Driving and Western competitions with his owner Bethany, who is generous enough to share him with GaitWay. Bama is easily recognized by his characteristic large ears, which he loves to have rubbed before and after his rides. His sweet temperament and eagerness to meet new riders have made Bama a great success here at GaitWay.
BB is a Quarter Horse. Like Rocky and Hammer, she is a beautiful Chestnut color with a white blaze. Unlike the boys, this girl is very petite, making her perfect for small riders. BB has a very sweet personality, loves being pampered and never says no to hugs or kisses from her volunteers and riders. She also likes trying new things and has a very healthy appetite. Her riders adore her, and she has made a wonderful addition to the team.
Callie is a Polish Warmblood. She is a mature girl that has experience in the show ring. Callie is quiet and confident and makes our riders feel at home in the saddle. She loves attention and being groomed. Her easy way of going fits in well at GaitWay.
Chaos is a stunning Half Arabian-Half Paint gelding. His black-and-white-spotted coat is visible from almost anywhere on the farm. Chaos comes from New Orleans, where he loves to ride on the levee with his mom and friends. His easygoing and very expressive personality is what makes him unique at GaitWay. Chaos is joining GaitWay to keep busy and in shape while his owner attends vet school in London. Thanks for sharing Chaos with us and good luck Arielle!
It's Hammer Time! Hammer is a Quarter horse gelding that has retired from a career of roping and heeling. He is ready for the quiet steady life of assisting riders at GaitWay. He has a sweet disposition and gentle nature. His owner loves him very much and is generously letting us enjoy him this semester. Spring will be his first semester with GaitWay and we are very confident he will quickly become a rider favorite.
Kajun, a Louisiana native, is a Gypsy Vanner, a small draft breed hailing from the British Isles, home to England and Ireland. Around the world, the Gypsy Vanner is also known as the Gypsy Cob, Irish Cob, Coloured Cob, and the Tinker Horse. Kajun displays eye-catching black and white, or piebald, coloring and significant leg feathering, both common features of the Gypsy Vanner.
Kajun is quite the traveler; he has been through McDonald's drive-thrus and, in true Louisiana fashion, on Zydeco dance floors. Kajun is eager to please and learns quickly. He loves people, treats and relaxing outside in his paddock.
Raude is a Red Dun Norwegian Fjord mare who was born on May 3, 1998. Raude came to GaitWay from Minnesota, where she was used as a brood mare. Believe it or not, she has had nine foals. One foal is our very own Freya, who will one day become one of our therapy ponies. Raude was ridden for pleasure and pulled sleighs and carts over the hills and through the snow. Her sweet nature and ever-steady rhythm are a perfect combination to teach our riders balance and confidence.
Rocky is a chestnut AQHA Quarter horse and has been a therapy horse at GaitWay for over six years. Quarter horses are known for their ability to sprint short distances, but Rocky likes to take his time and enjoy life. Each day, Rocky looks forward to lessons so he can visit with his riders!
When volunteers groom Rocky, he wiggles if they use a curry comb because it tickles, but secretly loves to be clean, shiny and brushed. When he is being ridden, Rocky pays close attention and tries to do whatever his rider asks, whether it's to increase his gait, make a circle or even jump a fence! In his downtime, Rocky hangs out in the big field at GaitWay Farms with his best friend Kajun.
Duke is an 18 year old Missouri Fox Trotter. Duke is a very gentle guy with lots of love to give. His character is about as big as his body and he is not afraid to take on riders of different shapes and sizes. He even has a special racking gait to help riders learning to trot! He has traded in a comfortable life at home with the Clafin's to help others reach their goals. We are so thankful to Mr. and Mrs. Clafin for allowing Duke the opportunity to serve others with special needs!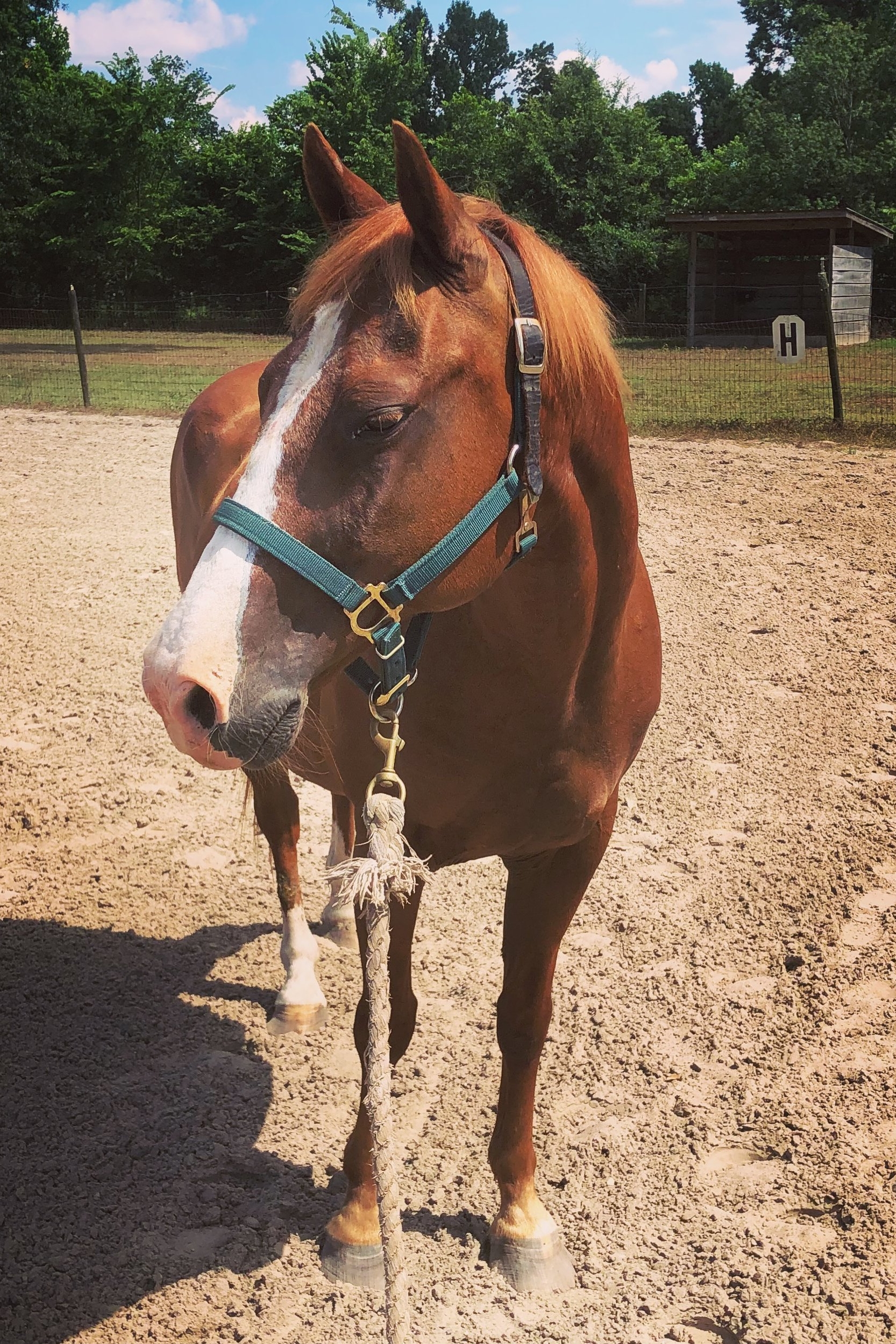 Red is a small Quarter Horse gelding being leased to GaitWay by Bailey Gentile. Red use to be a professional on the barrel racing circuit with his owner. While Bailey is attending nursing school, Red will get to take on riders of all sizes and help them become more independent and confident. Don't let his small size fool you! Red has a big heart and a big personality that makes all his riders believe they can do anything!
Her registered name is Princess Polo but the Defelice Family fondly calls her "Pony" for short. Pony is an older lady with lots of experience showing small children how to ride. The Defelice family has been generous enough to share their delightful little lady with us and she has quickly become a kid favorite. Pony's sweet and teaching nature is just what GaitWay needs for our smaller riders!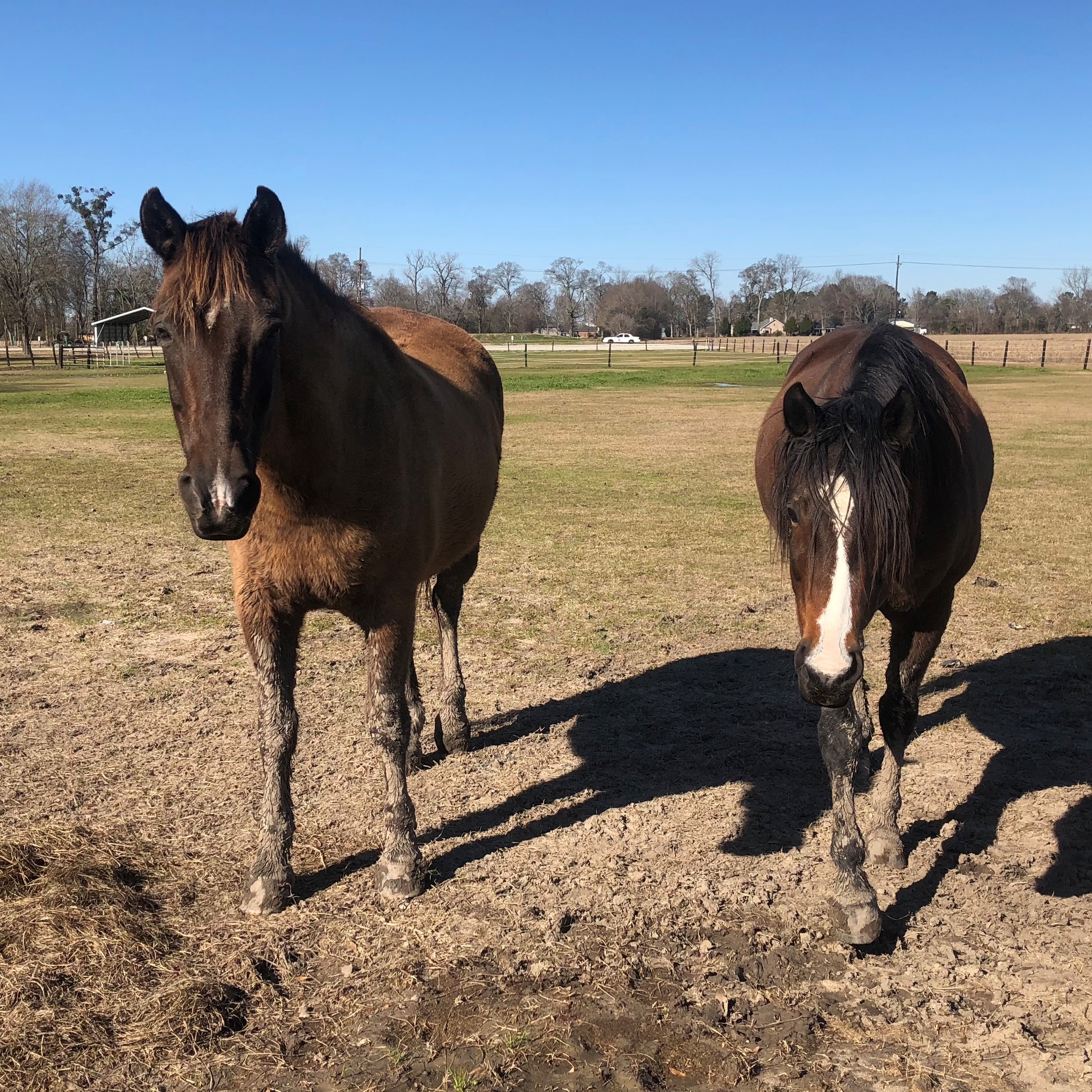 Meet our 2 horses who work our Port Allen satellite facility. Chester (left) is a Quarter Horse and Tennessee Walking Horse mixed gelding with one of the biggest hearts we've ever seen in a horse. He is very kind, sweet, loyal and patient with all our riders big or small. Even though Chester is part Tennessee Walker, he doesn't rack but this doesn't stop him from having a smooth gait that any rider grows to love! Chester lives with his best friend Noodle. Noodle is a Quarter Horse mare who stuns our riders with her beautiful looks. Although she prefers working the cattle on her owner's ranch, she is happy to help some of our riders learn to be better riders. We are so thankful to Jason LeBlanc for allowing us to use his horses and facility in Port Allen to help riders in West Baton Rouge, THANK YOU!